Musicians from the Junior Bach Festival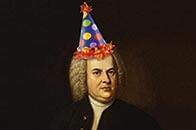 ADDRESS
Downtown Berkeley BART Plaza, Shattuck Avenue, Berkeley, CA, USA
ADDRESS DETAILS
Performances will take place on the platform above train arrivals.
TIME
March 21, 2023
4:00 PM - 6:00 PM
Add to Calendar
PERFORMANCE
Soloists and ensembles from the Junior Bach Festival
INSTRUMENT
Winds, strings, voice, mixed ensembles
PROGRAM
Various!
WEBSITE
Talented young musicians selected by audition to perform in the annual Junior Bach Festival are delighted to share Bach's music with BART commuters! Now celebrating our 70th concert year, our organization fosters the appreciation, study, and performance of Bach's music. Ten Junior Bach Festival concerts are taking place in venues throughout the Bay Area March 17-19 and March 24-27, 2023. The public is warmly welcome to attend, and no one will be turned away for lack of funds. Additional 2023 performances will be made available virtually, through our website.